MULTIPLE TYPES OF CAR TRANSPORT SERVICES
When choosing to ship a car via a car shipping services company to ship your vehicle, it's important to have options.
The option to receive a free quote helps you understand costs and pick the right path forward. And options for delivering your vehicle, from timeline to the type of car carrier, help you fit delivery into your schedule.
At NTS, we take pride in providing plenty of options. We want our auto transport services to meet the needs of as many customers as possible.
AUTO TRANSPORT SERVICES TO SUPPORT YOUR NEEDS
There are many reasons why you might need auto transport services.
One of the more popular reasons is bringing your car along as you head south for the winter. You can't leave that convertible behind! Moving across the country and don't want to or can't drive your own car there? That's another common reason to use car shipping services.
Auto transport services aren't limited to personal needs, either. As a business owner, you might need to relocate an entire fleet of vehicles, and need it done immediately.
Whatever your reasons for shipping your car, we have the solutions to help. We just need to understand a few things first, such as the type of vehicle you have and the pickup and dropoff points.
These two factors can usually kick off the process. They will likely inform you whether you need enclosed car transport or open car transport services.
What's the difference between those auto transport options? We're glad you asked.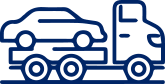 Open Transport Car Shipping Service
You have certainly seen open car transport on the road before. If you spend a lot of time on the highway, you've probably seen quite a few.
That makes sense, considering our open transport car shipping service is our most popular shipping option. It's the most common overall method of auto transport, too.
Efficient Method Multiple Vehicles
This efficient method can accommodate multiple vehicles simultaneously from coast to coast. This auto shipping service can ship 7-10 cars at a time. That makes it the most practical option and the most cost-efficient. 
This cost efficiency works both ways. Open car shipping containers are lighter than enclosed car transport carriers. That means they're more fuel efficient as well, saving everyone money.
It is versatile and capable of transporting any vehicle, from cars to larger trucks and tractors. Open transport car carriers work with any type of vehicle and can accommodate different sizes of vehicles also. Our open transport shipping services can facilitate more than only cars. We can ship your tractor if need be or a large truck. We're always focused on accommodating your needs. 
If you need to bring a vehicle from point A to point B, then National Transport Services' open car shipping services can make it happen.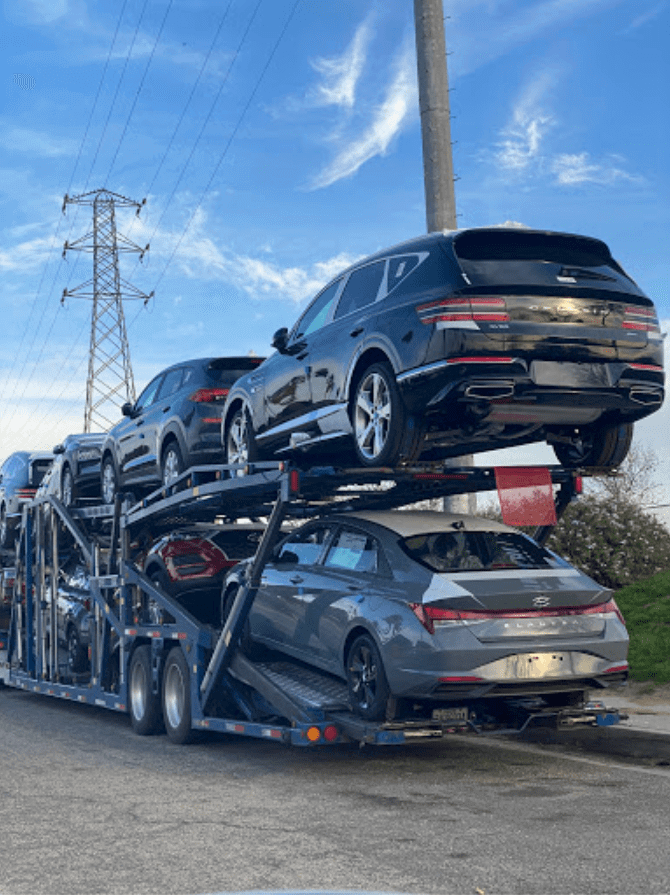 GET YOUR FREE AUTO TRANSPORT QUOTE TODAY!
Enclosed Transport Car Shipping Service
Our enclosed car shipping services are another popular option. Your vehicle makes its journey in a fully enclosed trailer. Our customers often choose this option when they need some additional security.
For example, luxury car shipping often uses enclosed auto transport car shipping. If you're shipping a classic vehicle or antique car, you want to protect your investment. Enclosed auto transport services can keep your vehicle out of sight and safe from the elements.
Enclosed transport is more secure than open car transport. This higher level of security also means fewer cars can be transported per vehicle, as compared to an open auto transport service. And that means a somewhat higher cost. For especially valuable and collectible cars, it's often worth the investment.
It's a good choice when the vehicle attracts a lot of attention. While standard car carriers take care to protect their cargo, sometimes traveling incognito is just the way to go. That's especially true if your vehicle attracts a lot of attention.
Both open and enclosed auto transport shipping services will protect your vehicle, bringing it safely to its destination. It all depends on your needs and the needs of your vehicle.
Vehicle Attracts Attention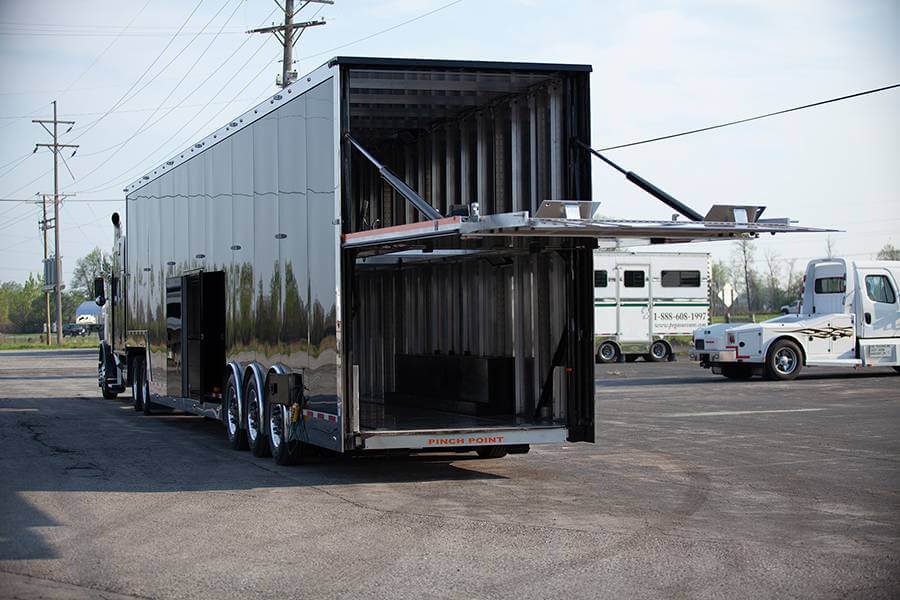 NTS provides car shipping across the country, which means we can handle all terrains and timelines.
If you need a convertible shipped from Illinois to Florida this weekend, no problem. If you need a Jeep shipped to a remote destination, we'd like to know where. If you need a fleet of sedans in time for the upcoming company gathering, our team can make it happen.
How do we pull this off so efficiently? We work with car carriers all over the country, maximizing our resources and our auto transport industry network. This allows us to pick up your vehicle on short notice, then deliver it wherever it needs to be. 
Some car shipping companies work regionally. This limits the types of vehicles they work with and the types of terrain their carriers are suited for. While the best car shipping companies, like NTS, can service the whole U.S. By working with carriers coast to coast, we can handle it all, knowing what it takes to maneuver a city street or a mountain road. Rain or shine, we can deliver your vehicle on a timeline that works for your needs.
You're choosing to ship your car across the country because it's your most convenient option. We want to make sure the entire process is easy for all of our customers. From providing an initial free quote, so you know where you stand to work around your schedule, we focus on your needs from the first conversation to the final delivery.
If you need your car picked up, we can facilitate that. Our customers love the convenience that comes with a pick up right at their front door. On the other hand, you might want to drop off your vehicle and meet the carrier personally. We can handle that, too.
Maybe you have a classic or antique car that you store away from your home. That's no problem. As long as we have the proper paperwork and your go-ahead, we can pick up your vehicle from anywhere.
Either way, we encourage our customers to take photos of their vehicle before pick up or drop off. It's unlikely that anything will happen to your vehicle. However, having photos can provide some additional peace of mind.
The auto transport service process should be simple. And the convenience of drop off or pick up doesn't get much simpler.
GET YOUR CAR FROM POINT A TO POINT B
If you're shipping your car for work-related reasons, for example, then you likely have a lot on your mind ahead of your move. When you choose us as your auto transport services partner, it's one less thing to worry about during an especially hectic time.
If you're snowbirding through the winter — tired of this cold weather and feeling like cruising in the sunshine with the top down — then you don't want to waste time getting somewhere warm. Board your plane, put your sandals on, and have your car arrive when it suits you.
No matter why you're making a move, let someone else deal with all the logistics and hassles of auto transport. Whether you're permanently relocating or just traveling while working remotely, having your vehicle delivered makes it that much easier.
Instead of worrying, turn to the professional car shipping services of NTS.
Three Car Transport Tiers
We offer three different car shipping tiers. These tiers are based on how quickly the customer requires the pick up of their vehicle. As the leading car shipping company, we provide our clients with options. Auto transport is unique because it can be flexible and accommodate many situations. 
For the Budget Conscious 
The current average market charge for automobile shipping is the standard tier. The car is dispatched between a national average of 1 and 5 business days after the initial date you specify when it will be ready for pickup. Yet, the length of time will vary on the locations.
For Someone Who Cannot Wait
We advise selecting our priority auto transport grade if you want your order by a specific date. With this choice, you can be confident that your car will arrive shortly. 
By using priority auto shipment, your vehicles will be dispatched within 1 to 2 business days of the first day you choose as being available for pick-up. For those with more constrained time periods, we strongly advise choosing priority auto shipment.
For Emergency Purposes
We have a fast auto shipping tier if you require your vehicle to be dispatched promptly. After receipt of payment, we will dispatch your purchased vehicle within 1 business day. Only weekdays are eligible for this option. 
Within 24 hours of the desired ship date, vehicles are sent and dispatched via expedited car shipment. For those who need to ship a vehicle as quickly as possible, it is strongly advised. (Only available from Monday through Friday.)
Whatever your reason for shipping your car, we have the network and the auto shipping services to make it happen. Reach out to us today, get a free quote, and let us take the stress of shipping your car off your shoulders. That way, you can focus on getting to where you need to be.
Need to ship a car? Contact us. We'll take care of your auto transport from here.
check out our LATEST BLOG POST
Blog
Are you planning to ship your car or vehicle across the country or overseas? Shipping a car can be a stressful process, but one of the most significant concerns for many car owners is the shipping cost for a car.
Read The Article »