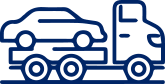 Our most popular car transport service is open car transport. With this shipping option, your car is securely attached to an open-air transport and is taken across the country. This is great for large vehicles such as tractors or large trucks and enables you to get your car to its destination quickly and efficiently.
Our open car transport option involves shipping your car on an extended, two-level trailer. Chances are, you've probably seen a two-story trailer loaded with vehicles riding alongside you on the highway.
Open transport car shipping with National Transport Services is suitable for any type of vehicle. It is the most cost-effective choice if you want to ship a standard model or a used car. Shipping by open carrier often comes with a cheaper price tag because we can ship seven to ten vehicles on the same trailer. Open-air trailers are also lighter than enclosed transport trailers, which means lower fuel costs.