Learn How to Ship a Car to Another State
Whether for work or for pleasure, there are many things to think about when heading to another state. If you are relocating for a job, for example, then the details of your new position are likely taking up a great deal of your head space. Not to mention the considerations that go into finding a new place to live.
On the other hand, you might be crossing state lines to get away from that pesky snowfall that just doesn't seem to end. You have set your sights on the beach and nothing is going to get in your way from making the trek.
You might have a home you regularly snowbird in, or perhaps this is your first time hiding out from the winter cold. Either way, there are travel considerations to navigate, as well as packing and other preparatory items.
College is another reason that people cross state lines. And we all know that gearing up for another semester comes with plenty to think about, just like all of these scenarios. And while some things take top of mind, other details seem less important and fall by the wayside. But if you are planning on bringing your car with you (regardless of your destination), then that's something you have to figure out.
The decision to ship a car to another state doesn't have to occupy as much of your attention as some of the other pressing matters. In fact, it doesn't have to occupy any. There are professionals that can handle the logistics for you.
If you are wondering how to ship a car to another, we have you covered. Check it out below.

GET YOUR FREE AUTO TRANSPORT QUOTE TODAY!
How Do You Ship a Car to Another State?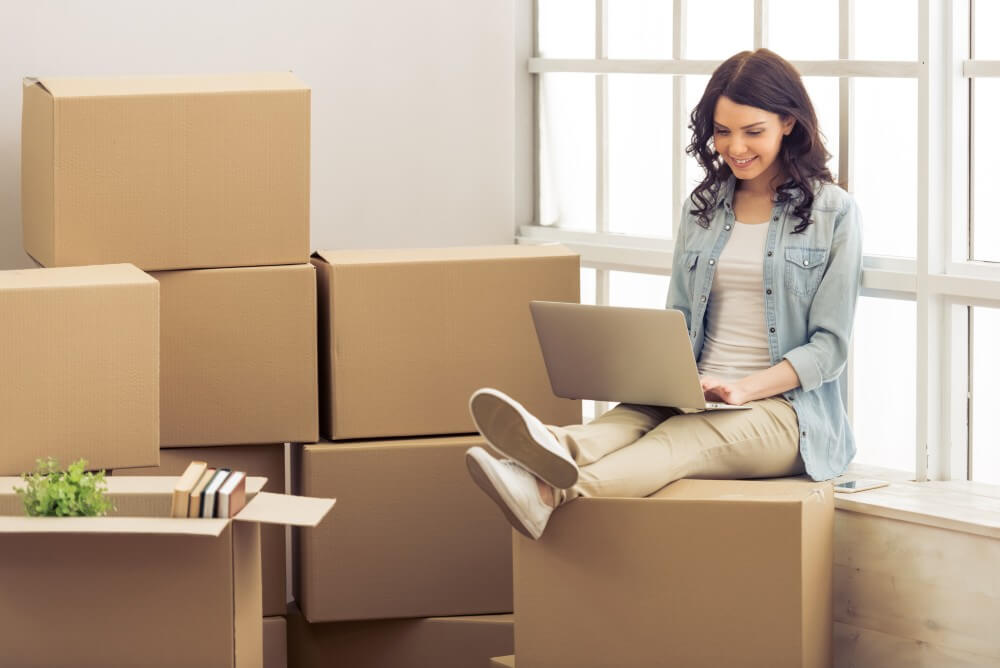 When it comes to shipping a car from one state to another, the first thing to know is that it's okay to relax. There are experienced professionals who do this very job each day. With so many considerations in your mind about your upcoming trip (or move), shipping your car to another state should not bog down your thoughts.
It doesn't matter what type of car you have, the distance you are looking to transport it, or the reason for doing so. Car transport services can get your car from point A to point B on a timeline that works for you and your situation.
If you've never shipped your car to another state before, then you might have some questions about the process. For example, is it cheaper to ship a car or drive? Or, should I ship my car in an open or closed container? Or perhaps, how do I prepare my car for shipping to another state?
These are only a handful of the questions that first-time car shippers ask. And they're completely valid! They also come with simple answers. Let's break those down a bit further.
How Much Does it Cost to Ship a Car to Another State?
When wondering how much it costs to ship a car to another state, do yourself a favor and get a free quote. Sure, you might want to do a quick Google search and quickly find a ballpark figure, but there is more to it than that. In fact, there are all kinds of factors at play when it comes to how much it costs to ship a car to another state.
One such factor is distance. It makes sense that the longer the vehicle has to be transported, the more it will cost. This is the case with driving your vehicle as well. Just think about how much gas the distance would require!
Additionally, the type of terrain plays a role in setting the cost as well. Open dry roads are easier to navigate than snowy mountain roads. This is because the vehicle itself (as well as the driver) requires additional considerations.
What type of car are you shipping to another state? Is it a convertible or classic car that requires a closed container for additional protection? If so, this might cost a bit more than if you have a standard carrier option, which can haul more cars at once.
Because of all these factors, and more, it's worth getting a free quote to see how much it would cost to ship a car to another state. Having this knowledge will also put your mind at ease. You will have a clear idea of the cost and can start focusing on the other (and perhaps more important) aspects of your trip.
How Do You Prepare to Ship Your Car to Another State
Preparing your car to be shipped to another state is not difficult at all. Not only are their guidelines and best practices in place, but the helpful team at your auto shipping service provider will help you navigate this information, making sure you are comfortable with the process and your car is safe and sound.
For example, taking photos of the vehicle is a common best practice before shipping your car to another state. This is so you can compare the condition of the car upon arrival at the other end, and make sure there was no damage that occurred during transit. There are also insurance measures for this type of thing, but familiarizing yourself with these guidelines will help you feel more confident about the process.
Ship Your Car!
Shipping your car from one state to another is not a difficult process, and will in fact make your move (or long-term visit) easier to plan for.
By trusting your vehicle to the experts at National Transport Services, you can rest assured knowing that your car will be where it needs to be, when it needs to be there, and in the same condition that it was in when you handed it off. Don't stress about driving the long distance, or about figuring out the logistics of the car's travel route, etc. Leave that to us.
Get a free quote today to know where you stand, and get started ship a car to another state.