The History of Country Classic Cars LLC
For those who love classic cars, there's nothing like seeing a perfectly restored vintage vehicle in person. And Country Classic Car is the only place to go if you want to find the greatest gathering place for classic car fans. Whether you're a die-hard enthusiast or just looking for a fun way to spend a day, this amazing collection of vintage vehicles offers something for you. This guide will closely examine Country Classic Car and what makes them so unique.
Country Classic Cars were founded in 1999 by Russ and Anita Noel, lifelong car enthusiast passionate about vintage vehicles. What started as a hobby quickly turned into a full-time business as Russ began buying and restoring classic cars and trucks from all over the country. Today, Country Classic Car are home to one of the Midwest's most extensive collections of vintage vehicles, with over 400 cars and trucks on display.

GET YOUR FREE AUTO TRANSPORT QUOTE TODAY!
The Collection
The collection at Country Classic Car is awe-inspiring, with vehicles ranging from the 1920s to the early 2000s. Here are just a few of the highlights:
1929 Ford Model A

1931 Desoto Sedan

1957 Chevrolet Bel Air

1961 Rolls-Royce Silver Cloud I

1969 Chevrolet Chevelle SS396

2007 Shelby GT500
In addition to classic cars and trucks, Country Classic Car have a selection of vintage motorcycles, tractors, and other memorabilia. And with new vehicles being added to the collection all the time, there's always something new and exciting to see.
The Experience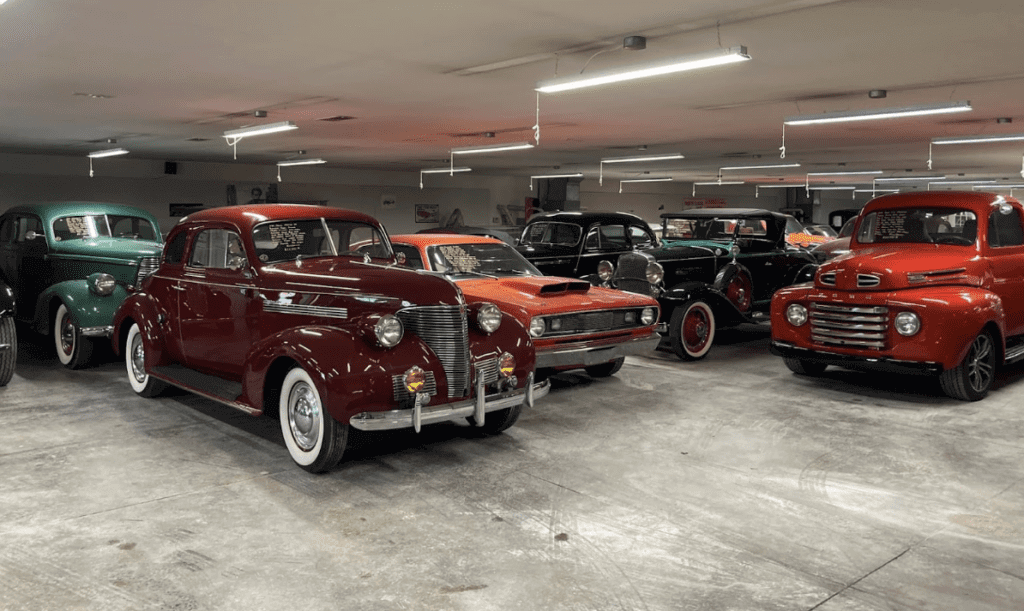 Visiting Country Classic Car is a truly unique experience. The museum is housed in a restored 1940s-era building that was once a car dealership, giving visitors a glimpse into the history of the automobile industry. Inside, the cars are displayed in a way that allows you to get up close and personal with them, making it easy to appreciate the fine craftsmanship and attention to detail that went into each vehicle.
And if you're looking for something extra special, Country Classic Cars llc also offers guided tours and even the opportunity to take a vintage car out for a spin. Whether you're a seasoned car enthusiast or simply looking for a fun day out, Country Classic Car is sure to impress.
Frequently Asked Questions
Q: Can I purchase a car from this classic cars shop?
A: Yes, many of the cars on display at Country Classic are available for purchase. Contact the museum for more information.
Q: Is there an admission fee?
A: No, Country Classic is open to the public. Everyone is welcome to visit free of charge.
Q: Are there any special events or exhibits?
A: Yes, Country Classic hosts various events throughout the year, including car shows and swap meets. Check the museum's website for more information.
Q: Where is the classic cars dealership located?
A: You can find CCC on Frontage Road Staunton, Illinois. The showroom address is: 2149 E Frontage Road, Staunton IL 62088
For more info call there front desk: (618) 635-7056
Conclusion:
If you're a fan of classic cars, then Country Classic Car is a must-visit destination. With its impressive collection of vintage vehicles, unique setting, and engaging experience, it's easy to see why this museum has become such a popular destination for car enthusiasts from all over the world. So whether you're a die-hard fan or simply looking for a fun day out, be sure to add Country Classic Cars llc to your list of must-visit destinations.
From the history of the collection to the experience of walking through the museum and even the opportunity to purchase your own vintage vehicle, Country Classic Car offers something for every vintage car lover. Whether you're looking to admire the craftsmanship of classic cars, learn about the history of the automobile industry, or even take a vintage car out for a spin, Country Classic Car have it all.
So why wait? Plan your visit to Country Classic Car today and see for yourself why this museum is one of the most popular destinations for vintage car enthusiasts. Whether you're a local or visiting from out of town, a trip to Country Classic will surely be an unforgettable experience that you'll remember for years to come.
Classic Car Shipping:
If you are looking to purchase a classic car and need to get it shipped to your front door, National Transport Services can deliver what you need. Contact us today for a free shipping quote!