Streetside Classics Near Me
Streetside is a classic car showroom and collector's dream, offering stunning vintage vehicles from all around the world. If you are a car collector, there is nothing more exciting than finding the perfect automobile for your collection. Whether you're a proud classic collector, a budding young adult taking on their first restoration project or an experienced auto buff looking to add to your existing restorations, tracking down just the right street-side classic can be quite an adventure.
To help make that hunt easier, we have compiled this list of some of the best Streetside Classics locations for enthusiasts across all ages and stages in their journey! From college students to seniors and military personnel, there's something here for everyone – it doesn't matter whether you're an experienced automotive aficionado or someone just looking for a bit of fun! Read on to find out which locales are packed with potential new gems for your collection.
GET YOUR FREE AUTO TRANSPORT QUOTE TODAY!
Atlanta, GA
Streetside in Lithia Springs, GA 30122 is a one-stop shop for classic and vintage car enthusiasts. Their inventory includes stunning cars from around the world, all of which have been carefully inspected and prepared to meet the highest standards. Streetside Classics ensures these collectible cars are given the same attention to detail, craftsmanship, and care a collector deserves. They have an comprehensive catalog of vintage cars, trucks, and exotics or supercars in the Lithia Springs, GA area. The showroom in Atlanta is a whopping 78,000 sq ft and is the largest of the six locations Streetside has to offer.
The showroom opened in 2010 and has over 350 collectible cars for sale ranging from American classic cars to European "Youngtimers". Visit to sell your car or view an array of amazing and unique automobiles while perusing one the largest showrooms in Georgia. They offer a zero upfront fee for consigning which is virtually unheard of in the classic car industry. They handle the negotiation with the buyer, so you do not have to deal with the back and forth hassle that comes with selling cars. In addition, they can organize the shipping to make the sell of your car as easy as possible.
Streetside Classics Atlanta, GA is a top destination for collector car enthusiasts everywhere.
Streetside Classics Atlanta stands out among car enthusiasts for its extensive selection of classic and vintage cars. Streetside guarantees that each car has been carefully inspected for quality, ensuring that each vehicle is up to the standards for excellence demanded by Streetside's team. Streetside Classics Atlanta is constantly updating their inventory with some of the latest models as well as hard-to-find gems from years past. Whether you're looking for a driver daily commuter vehicle or an impressive display piece at a show, Streetside Classics Atlanta will be able to meet your needs.
The Atlanta showroom spans 78000 sq ft making it the largest in their 6 locations.
Streetside in Lithia Springs, GA is the ideal destination for car enthusiasts. Boasting a showroom that spans 78000 square feet, the Streetside Classics Atlanta showroom is the largest of their 6 locations; making it difficult to beat when it comes to stocking an extensive selection of classic and collector cars for sale. Streetside has grown over the years by consistently delivering on quality vehicles and personable service, so take a walk around their impressive Streetside Classics Atlanta showroom and find your piece of automotive history today.
Opening in 2010 with over 350 cars on sale.
Streetside Classics Atlanta has been eager to help all classic car enthusiasts find their dream car since 2010. With up to 350 classic cars for sale in their Lithia Springs, GA inventory, Streetside provides a one-stop shop for everything from everyday classics to modern works of art. They pride ourselves on being the experts each customer can trust and rely on in finding their perfect ride. Streetside is much more than just a car dealership—it's a true destination for anyone searching for their Streetside classic near me that offers only the best quality products and reliable services.
They offer $0 upfront fees when consigning your vehicle and handle all negotiations with buyers as well.
Streetside Classics Atlanta provides a remarkable consignment service that makes selling your classic car convenient and hassle free; from their $0 upfront fees to their commitment to help coordinate transport for the buyer, Streetside in Lithia Springs, GA 30122 gives you confidence and peace of mind. To sell a classic car can be daunting – Streetside Classics Atlanta understands the sentimental value that classic cars hold and take extra steps to ensure this is respected by handling the daunting task of managing any negotiations with buyers. Streetside Atlanta' team of experts are dedicated in helping ease the process with knowledge of all things classic cars, enabling them to get you the best price for your classics car. Streetside Classics Atlanta also fiercely protects your personal information, giving you great assurance when it comes to choosing Streetside Classics Atlanta as your go-to solution anytime you need to consign your classic.
Address: 213 Thornton Rd #400, Lithia Springs, GA 30122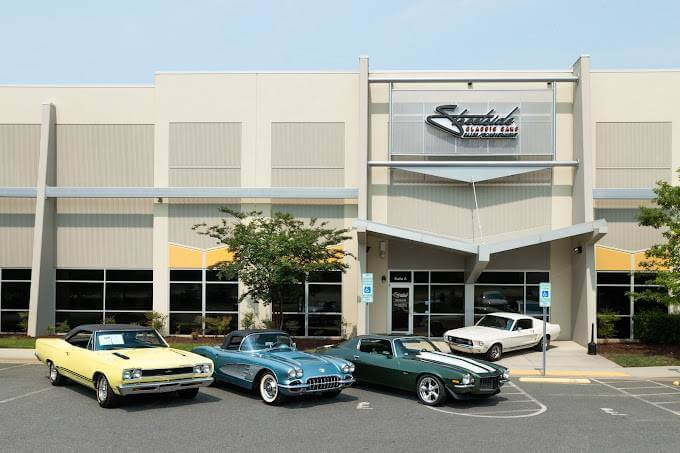 Charlotte, NC
Streetside Classics Charlotte is the ideal place to find a classic car you love. As the original Streetside Classics Location, it has been helping clientele find the right cars for them since 2008 and has developed an immense selection to choose from. Boasting over 70,000 square-feet of indoor showroom space and over 300+ classic cars available, Streetside Classics Charlotte provides purchasers with a massive selection of styles, makes, and models to choose from. If that's not enough, Streetside Classics Charlotte also accepts consignments from individuals who are looking for the perfect buyer for their vehicles — totaling over 6,000 to date! Not only does Streetside Charlotte has a great selection but also extensive expertise in trading classic cars.
Their massive showroom is open to the public so why not stop by to visit.
Streetside Classics Charlotte can provide a great experience for individuals who are passionate about cars. Their showroom is the largest of its kind and open to public, so you can easily visit at any time. Streetside showcases an amazing variety of classic cars near you, ranging from old American muscle cars to exotic sports autos. The immense showroom gets even more fascinating with their jaw dropping vehicles shows where you get to explore and admire some rare classic beauties. Streetside team in Charlotte is also willing and able to help you learn even more, provide details of inventory available in all the other locations and assist in planning an awesome showroom visit. Stop by Streetside showroom today to get an amazing experience!
Streetside Charlotte sells nearly 600 classic cars annually.
Streetside Classics Charlotte is the preferred destination for classic enthusiasts seeking quality vehicles. Streetside Charlotte has sold nearly 600 cars in the last year alone, with options ranging from a 2019 Corvette Supercharged Z06 to a 2018 Mustang Petty's Garage's King Edition Convertible. Whether it be a custom Cadillac by Hennessy or a classic Shelby, Streetside Classics guarantees satisfaction with each purchase. Even more noteworthy, Streetside also brings more rare rides such as using classics like the 1971 Plymouth Hemi Barracuda and the 2018 Dodge Challenger SRT Demon, making Streetside Charlotte one of the best places to find classic cars for sale.
3 most popular makes and models company-wide.
Streetside Charlotte is the destination for North Carolina automobile enthusiasts seeking classic cars for sale. Streetside offers a wide selection of vehicles from the historic Mustang to the modern Camaro and from the world-renowned Corvette to more. As these vintage rides are some of Streetside's most popular models and makes, they welcome you to stop by our Charlotte showroom for the largest collection of classic American muscle cars! To ensure your satisfaction, Streetside has experienced sales consultants that provide reliable advice and satisfactory customer service. Get ready to take advantage of Streetside Classics and discover why they are the best in town when it comes to finding some of North Carolina's top searched collector cars.
Address: 800 Derita Rd Suite A, Concord, NC 28027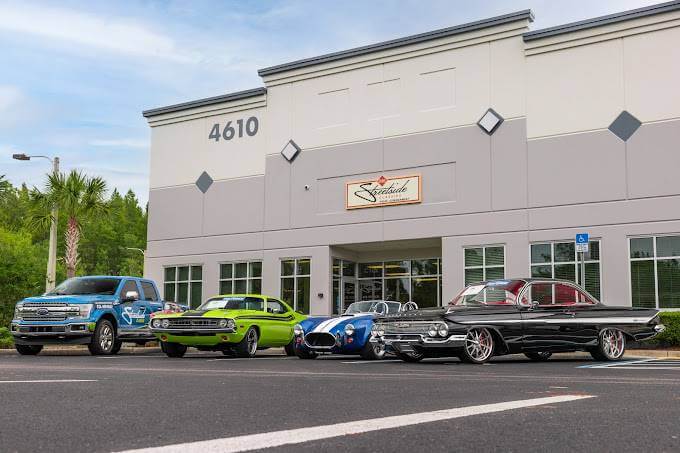 Tampa, FL
Streetside Classics Tampa offers an unparalleled shopping experience for anyone looking to buy a classic car in the area. Located conveniently in the heart of the Tampa International Automall, Streetside is well-equipped with 43,000 sq ft of space, providing room for over 250 consignment vehicles and classic cars for sale. Streetside Classics is the place to go if you find yourself asking "where are there classic cars for sale near me?" With Streetside you can trust that you are getting a quality classic car from experienced professionals who have been restoring timeless classics since 2015. Shop Streetside Classics Tampa today and drive away with your dream car!
Streetside Tampa sold nearly 450 classic cars in the last year.
Streetside Classics Tampa is one of the premier names in classic car dealerships, offering a huge selection of vehicles from cars as old as a 1965 Austin-Healey BJ8 to new model years, such as the 2018 Land Rover Range Rover Sport. Streetside Tampa has sold over 450 classic cars this past year to all kinds of people including avid collectors and first time buyers. Everyone can agree Streetside Classics Tampa houses some of the finest collector cars on the market, with their selection of vehicles including the 1957 Chevrolet Bel-Air, 1996 Chevrolet Corvette and 1972 BMW 3.0CSL. Streetside Cars offers an extensive inventory of quality cars with expert knowledge and excellent service that make purchasing one of their beautiful street side classics an unforgettable experience.
Selling your classic car has never been easier with them.
Streetside Classics Tampa provides the perfect solution for anyone looking to upgrade their collection of classic vehicles. With their experienced team of experts, you can rest assured that they will make selling your classic car as hassle-free and seamless as possible. From negotiation to buyer financing and arranging transportation, Streetside Classics Tampa will handle each step with the utmost care and professionalism, so you can enjoy a successful sale in no time. Streetside Classics has been providing collector cars for sale since 2008, so its no surprise that their services come with an unparalleled level of trustworthiness. Look no further than Streetside Classics for a stress-free consignment process!
Address: 4610 Pet Ln Suite 105, Lutz, FL 33559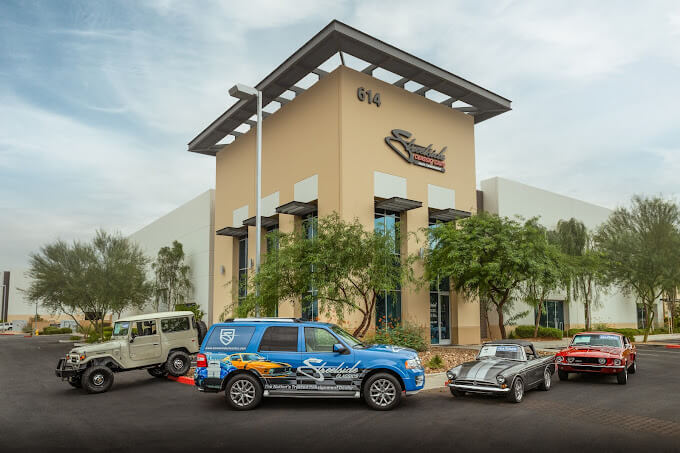 Phoenix, AZ
Streetside Classics Phoenix is a paradise for car lovers and automotive enthusiasts. Spanning over 53,000 sq ft, this showroom opened in 2017 and is a perfect destination for those of us looking for classic cars. Streetside Classics Phoenix takes collector cars seriously and offers the chance to buy an emotive range of new and classic from the 70s to the latest exotics and supercars. Supporting their passion for cars, Streetside Classics has an impressive range for you to pick from at Streetside Classics Phoenix – something you won't find elsewhere. It's definitely worth visiting if you're looking for a precious collector car as it's one of the largest showrooms in Arizona!
Streetside Classics Phoenix location is a true classic car paradise!
Streetside Classics Phoenix is the special place for collector cars. From classic muscle cars and timeless convertibles to modern collectibles, Streetside offers it all in the heart of Mesa, Arizona. Streetside Classics' knowledgeable staff are ready to assist customers in finding the automobile that meets their desires and budget. Whether you're looking for yourself or someone else, Streetside Classics Phoenix will help you choose a vehicle that is truly one of a kind. With Streetside Classics' guarantee of quality and craftsmanship, you can be sure that your investment of a classic car is worth every penny.
Phoenix sold nearly 450 classic cars and trucks.
Streetside Classics Phoenix is undeniably the ultimate authority for classic cars and truck enthusiasts! With nearly 450 vehicles a year, Streetside offers a carefully curated selection of collector cars from all over the country. From muscle cars to hot rods to exotics, Streetside Classics makes it easy for shoppers to find the autos of their dreams. And with Streetside's friendly experts on hand, customers can rest assured knowing that they are making informed and confident decisions. No matter what kind of classic car you're looking for, Streetside Classics Phoenix should be your first stop!
Address: 614 E Auto Center Dr Suite 101, Mesa, AZ 85204
Fort Worth/Dallas, TX
As the crown jewel of Texas, Fort Worth has something to offer car enthusiasts of all kinds.
Streetside Classics Fort Worth is an essential destination for car enthusiasts from around the globe. Located in the heart of Texas, Streetside Classics provides a renowned selection of classic cars of all varieties. American muscle and European sports cars to daily drivers can be found among their impressive lineup; regardless of what your dream car may be, Streetside Classics surely has something in store for you. Whether you want a timeless convertible or a collector's item, Streetside Classics guarantees satisfaction with its excellent customer service and outstanding car selection. If you're searching for classic cars then Streetside Classics Fort Worth is your ultimate destination!
The Dallas/Fort Worth showroom.
Streetside Classics Fort Worth is the go-to place for classic car enthusiasts! With over 55,000 sq ft of showroom space and nearly 600 classic cars and trucks sold last year, Streetside Classics Fort Worth is the largest consignor in the area. Since opening in 2012, Streetside has consigned over 4,000 vehicles with an inventory of 300 consigned vehicles available every day. Professionally staffed by highly knowledgeable and experienced staff, Streetside Classic makes buying a classic car an easy and enjoyable experience. There's no better place to find a classic car than Streetside Classics!
Don't hesitate to stop by Streetside Classics Fort Worth and see what they have in store!
Streetside Classics Fort Worth is the ultimate destination for classic car enthusiasts. Their selection of cars is among the best available; their staff are experts in their field, meaning you're guaranteed to get top quality advice and service when purchasing a Streetside Classic. Whether you're looking for a piece of automotive history or searching for your next showroom icon, Streetside Classics has what you need. Don't wait any longer – stop by Streetside Fort Worth and discover the perfect classic car today!
Address: 5400 Sandshell Dr STE 100, Fort Worth, TX 76137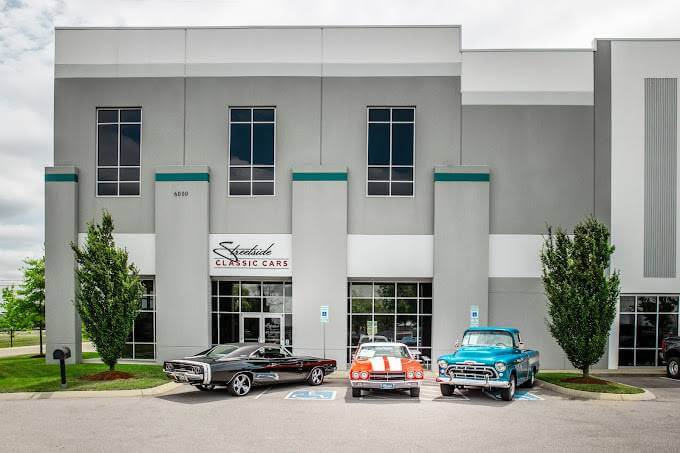 Nashville, TN
Streetside Classics Nashville is a showroom of over 50,000 sq ft that has been selling classic cars and trucks since 2016. Streetside Classics is a leader in classic car consignment, as they sell an impressive 500 vehicles annually. Streetside maintains a top-notch selection of classics for sale, and they have the knowledge and experience to make sure your buying process goes smoothly. Whether you are looking for a streetside classic or just want an eye-catching statement piece, Streetside Classics's knowledgeable salesmen are dedicated to helping you find the perfect classic car near you.
With more classics for sale than anywhere else in Tennessee, the Nashville showroom has sold everything.
Streetside Classics Nashville is the go-to showroom for classic car enthusiasts everywhere! With an impressive range of vehicles, Streetside Classics offers a selection of classic cars that can't be found anywhere else in Tennessee. From a 1965 Ford Mustang to a 1986 Buick Grand National, Streetside Classic has what you need to make your dreams come true. Not only do they offer recent model year releases like the 2016 Chevy Camaro SS and the 2016 Ford Mustang GT, but Streetside Classics also houses some of the exotics like the 2011 Audi R8 and 2016 Bentley Continental. Looking for classic cars for sale near me? Look no further than Streetside Classics Nashville!
Streetside Classics does not offer extended warranties.
Streetside Classics has set the bar when it comes to classic cars. Streetside Classic cars are reliable and well-crafted, but of course, like any automobile, they can break down. Streetside Classics may not offer extended warranties, but it is still sensible to explore their options. A good car warranty will give you peace of mind because you know that if something goes wrong, you're covered. Take a look at what Consumer Reports has to say about one – whether Streetside offers it or not is irrelevant because chances are that there are other warranties out there that will work just as well. It never hurts to do your research first and make sure you've found the best coverage for your Streetside Classic!
Address: 6000 Reliance Dr, La Vergne, TN 37086
Conclusion
Ultimately, the best place for car enthusiasts to find amazing classic cars and collector cars for sale is at a Streetside Classics location. Whether you are near Atlanta, Charlotte, Tampa, Phoenix, Fort Worth or Nashville – you can find exactly what you're looking for at a great price. Streetside Classics offers an unparalleled selection of classic cars and experienced staff ready to answer your questions and help you make your dream ride a reality. And with their convenient quote system, it is easy to get an estimate on shipping that car home securely. Don't wait any longer – head down to Streetside Classics today! Let your inner classic car enthusiast come alive and get a quote to ship that automobile home! With help from Streetside Classics, your classic car dreams can become a reality!
Do you also need to have a vehicle transported? Get a free quote here!