The 10 Steps to Prevent Disaster
Moving long-distance? Whether you have multiple vehicles to take with you on your big move, or you prefer to fly to your final destination, car shipping is a great way to save money on your car's arrival.
While loading your car up and hoping it arrives safely can be nerve-racking, the best car shipping company will give you peace of mind as you ship a car across the country.
However, while you can trust car shipping to move your vehicle, the car shipping company can't guarantee a damage-free service without your help. Before you send it away, there are a few measures you need to take to ensure the best results.
Follow along to learn the 10 vital steps to take to prepare your car for shipping and encourage a safer, problem-free delivery.

GET YOUR FREE AUTO TRANSPORT QUOTE TODAY!
1. Gather Paperwork
When preparing your car for shipping, make sure you have all of the necessary paperwork with you and ready to go. While some of these documents will be requested from your car shipping service, there are other items that are standard, such as auto transport insurance requirements.
Your car shipping service will likely supply you with a list of necessary documentation when you book your order, but if you are unsure, it's a safe bet to make sure you have:
Vehicle registration
Insurance documents
Bill of sale or other proof of ownership
The original vehicle title
Government-issued photo identification
If you are wondering whether you need insurance to ship your car, you might find that it is beneficial. Update your insurance with a moving insurance policy. This will ensure any accidental mishaps during transport are covered and you aren't held liable for damages.
The driver will need to see all relevant documents before loading up your car, so don't be caught without your paperwork and forced to reschedule your move.
2. Wash It Up
An often overlooked car shipping tip is to make sure you give your car a thorough wash. While it may gather a bit of dirt on the trip, having a clean car will make it easier to notice any scratches or dents. Though it is a simple auto shipping tip, it is a highly recommended step when preparing your car for shipping.
Once your car arrives at your final destination, you'll have a chance to identify any damage that occurred during transit. Because dirt has the ability to hide signs of damage, you may find this difficult to do accurately.
It's important to be able to notice dings and scratches at the time of arrival because once you have signed the paperwork, the company is no longer liable for any damage you may find. Even if you take your car directly to the wash upon arrival and note issues then, you won't be able to claim this damage was made by moving.
On top of this, having a clean surface will prevent scratches from forming due to rubbing against dirt. And of course, having a nice clean vehicle to pick up on the other side is always an enjoyable experience.
3. Pre-Inspect
Now that your car is clean and bearing every detail, you can make notes and take pictures of existing damage as you further prepare your car for shipping. Before your transportation driver takes it away, they will make notes of this damage as well, but it's a great idea to know exactly what to note on your end as well.
Having photo evidence of your vehicle will also help if there are any marks in question on the other end. Rather than an inspector marking off damage as a pre-existing condition, you'll be able to prove that a scratch or dent is new.
4. Clean It Out
Similar to washing your car, a commonly overlooked tip for shipping your car across the country is to take your cleaning efforts to the interior by removing any clutter and cleaning out unnecessary items. Anything that isn't securely fastened in your vehicle may shift around or even break during transportation.
Transporting a car comes with bumps and movement that might not happen during regular use, so take the time to clean it all out. Remove items hanging from the mirror, vent clips, money, and other objects that could move around.
If you have electronics or expensive items within your car, it's a good idea to remove them. This will prevent any theft or break-ins from occurring along the journey and give you peace of mind.
5. Disable Alarms
The movement of transporting a car could trigger sensitive alarms and set off vehicle alerts unnecessarily. Many systems will have options as to what alarms you want in place. As you prepare your car for shipping, take the time to go through these sensitivity markers and remove any alarms that could be unintentionally triggered.
If you can't select individual settings, simply disarm your car altogether. This will make your driver's trip much more enjoyable and save your car battery from draining due to a lengthy alert.
Rather than having endless notifications from your alert system or torturing your driver with a persisting alarm, turn these features off until you are car is back in your possession.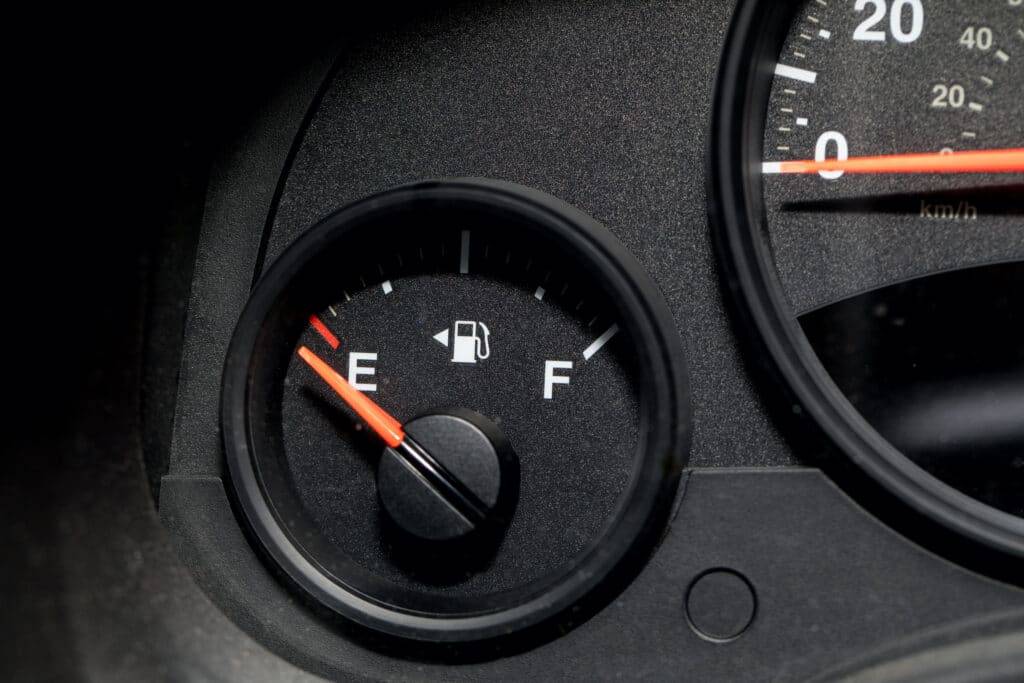 6. Don't Fuel Up
Fueling up before a long trip is a great habit, but it won't be necessary for this trip. Your car isn't being driven the distance, so it won't require a full tank to ensure arrival. In fact, having a full tank of gas is actually unhelpful for car transport.
A car shipping tip that isn't widely discussed is that having a full tank will actually drive up the weight of your vehicle and make it more difficult to load an appropriate amount of cars for the trip. This could cause the car shipper's load to be overweight and delay arrival due to legal issues.
Beyond weight, unnecessary fuel can cause safety hazards and increase the risk of accidents. Instead, aim for a car with about a quarter of a tank left. This will ensure you still have enough gas to pick it up on the other end but reduce weight and risk for the trip.
7. Go For a Tune-Up
Prepare your car for shipping far enough in advance so that you have time to take your car into the shop and make sure any leaks or other issues are taken care of. If you arrive at pick up with a mysterious leak, your driver may not clear your car for transportation.
While the leak may be harmless or ongoing with no other issues, the driver has no way of ensuring it won't be a safety risk while on the road. Beyond this, if your car is on the top rack of a vehicle transport truck, your leak may be dripping down to the car below.
This could cause damage to other vehicles and hold the service liable for issues that your car caused.
8. Remove Customizations
If you've done any aftermarket customization to your vehicle, an auto shipping tip would be to remove the kits.
Things like spoilers or undercarriage lights may be damaged in the on and off-loading of your vehicle or simply not fit in the space. This is especially true for an enclosed car trailer as any external add-ons may increase the size past the forecasted allowance.
If you have foldable mirrors, tuck them safely into their retracted position and remove or collapse any antennas. This will prevent damage to your car and others and ensure the safest fit possible.
9. Lock and Leave
Once you prepare your car for shipping, and your car is all loaded up and ready for take-off, lock it up and hand the keys over to your car delivery service. Although your alarms will be silenced, hitting that lock button will ensure that your car doesn't suffer any theft along the way.
Our company will need a key in the event of an unforeseen circumstance, but if possible, you should also keep a key in your possession. Having a second copy will ensure you still have access to your vehicle if your key is misplaced.
While very unlikely, it would be unfortunate to be stuck without a car while you wait for a replacement key. If you don't have a secondary key, consider making a copy before you ship a car across the country.
10. Sign the Contract
Before your car is taken away, your shipping company will ask you to sign a car transport contract confirming your order. This car transport contract serves to protect both you and the company from any legal issues.
These auto transport insurance requirements are put in place by all car shipping companies for liability and insurance reasons. The car transport contract you review is called a bill of lading and will include information such as:
The starting location of your car
The final destination for transport
Condition of your car at pickup
Mechanical issues
Special instructions
As with any contract, it is important to take the time to confirm all details are correct and be fully aware of what you are signing. Once you've confirmed and signed on the dotted line, you can set off on your way to your new home and rest easy knowing your car will be joining you soon.
Use Car Shipping for Your Next Move
Now that you know the 10 steps to check off before sending your car on its way, as well as a few additional auto shipping tips to keep in mind and help you with the process, you can ensure the best possible result for your car shipping experience. From a damage-free delivery to paperwork and legalities, you can trust the best car shipping company to get your ride from A to B with no hassle or inconveniences.
Ready to set off on your big move? Get in touch with us today to schedule your auto transport service and trust the best in the industry with your car shipping needs.