WINTER IS COMING
Cold, wind, snow and long nights all the things you dread about winter are coming.
Maybe that has you dreaming of warmer climes and sunshine somewhere south of the border. Spending the winter months where the weather doesn't make your joints ache and you don't have to dig your way to the mailbox sounds lovely, right?
US-CANADA AUTO TRANSPORT
More than 300,000 Canadian snowbirds follow the other birds south for the winter every year. Canadian snowbirds head to states all along the southern part of the United States from Florida to California spending as many as six months of the year there.
If you're going to spend that long in a location, having a vehicle to get around in is important. And having your own vehicle is even better. If you want to learn more about bringing a Canadian car to the US, keep reading.
You have several choices for how to get your auto from Canada to the United States. Let's take a look at your choices and the things you need to consider as you make your plans.
MAKING THE CHOICE
There are pros and cons to any choice Canadian snowbirds make about transporting a vehicle from Canada to the US. As you look at each of the options we present here, consider these factors to make the best decision for you.
Car transport cost and budget

Convenience

Wear and tear on your vehicle

Timing

Experience along the way
1. DRIVE IT YOURSELF
The simplest option is just to drive yourself from Canada to the United States. In fact, more than 70 percent of the members of the Canadian Snowbird Association do that each year.
It's a great way to see more of the country whether you're heading from Canada to California or Florida. There are many interesting stops you can make along the route that you would miss if you traveled by air. Plus, it's your best option for cheap auto transport.
You will need your passport or Nexus card at the border and check the U.S. customs website for information about what you can and cannot carry into the country with you. Have your lease or ownership proof for the place you plan to stay to show your intentions when you enter.
Car shipping from Canada to the United States is what's called an informal import or a 3299 entry. This applies to vehicles from Canada that will be in the U.S. for less than a year, which is usually the case for Canadian snowbirds. On the way back to Canada, your vehicle will be considered a Canadian Registered Returning Vehicle.
But maybe you've been driving your car down for a few years now and the novelty of the long road trip has worn off. Maybe your health makes a driving trip a less appealing prospect than before, especially a long one like Canada to Arizona.
If driving yourself is no longer a good option for you, one of the other three choices of Canada to US auto transportation might work for you. 
2. LET SOMEONE ELSE DRIVE
Leave the driving to someone else with a drive-away service. These types of companies have a slate of drivers who will handle the tedious trip, or you can look for an individual doing the same.
Going this route has the big edge for Canadian snowbirds of allowing you to use the car space to pack personal items you want to have with you over the winter. You can get a lot more into the trunk of the car than you can into a carry-on bag.
These types of services can easily give you door-to-door delivery options since the car can be driven to your vacation property. You will just need to worry about additional transportation to get yourself to and from the airport for your part of the trip.
There is still the downside of mileage, gas, and general wear on your vehicle as it travels the miles. Any time your car is on the road, there is the risk of an accident or road damage.
Your cost for car transport can vary depending on how the service charges. Some give you a flat fee price, while others might have you pay for the turn plane ticket for the driver.
You'll want to double-check with your insurance company to ensure the company's driver will be covered by your policy.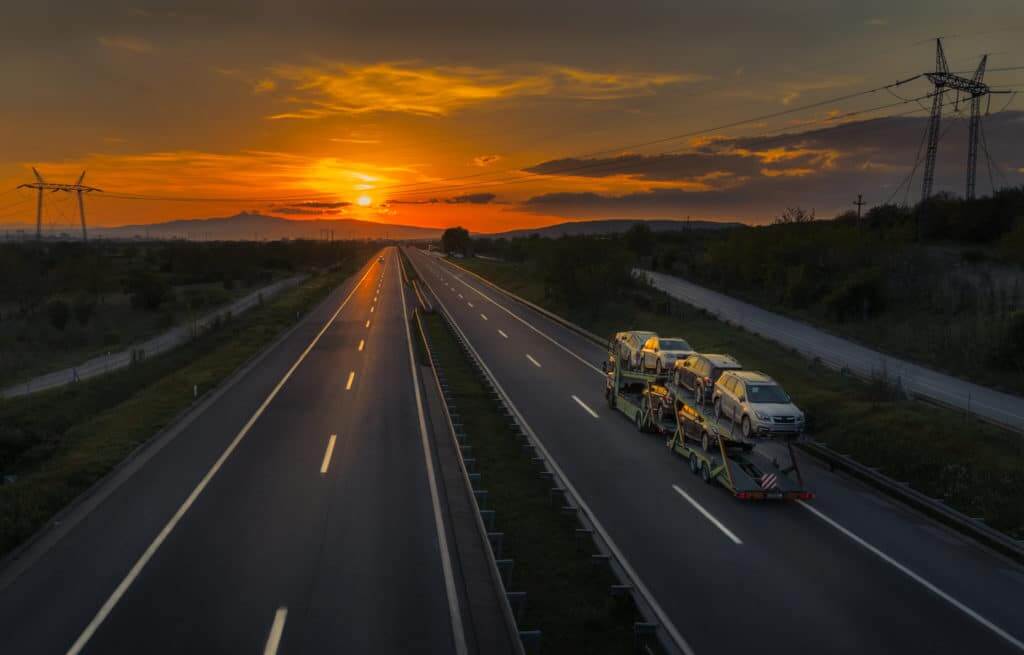 3. USE SNOWBIRD CAR TRANSPORT
Canadian snowbirds can send a vehicle south from Canada to the United States on a vehicle transport truck, which typically brings eight or nine cars down at a time.
Logistics are less flexible with a car transport service since you`ll have to drop off and pick up the car based on the truck`s departure and arrival dates. While some companies might offer pick up and delivery, you will most likely have to go to their set location to drop off and pick up your vehicle.
The trucks might make several stops along the way, so this option takes more time than driving yourself down. Double-check whether the service will also let you to load any personal items into the car because every company has different policies.
The cost of these types of services will almost always be higher than your other options, but there will be no wear on the vehicle or mileage added to its use. The overall cost will depend on how far you`re sending it, vehicle size, vehicle value, and how you send it.
Your two options are open or enclosed auto transport. Open car transport tends to be cheaper than enclosed and more widely available. They often make more stops, so transit time can be longer but also more flexible.
For example, if you transport a car, shipping to California might involve your car changing hands a few times to get it on a trailer that ultimately reaches your destination.
Enclosed transport carry fewer cars and are more expensive than open trailers as a result. Your vehicle will be protected from the elements and road debris, as well as from anyone getting access to the vehicle.
To prep your vehicle for transport from Canada to the United States, you'll want to wash and clean the insides as this helps get it through customs. Also plan to turn off the alarms and don't fill the gas tank.Â
4. MOVE BY TRAIN
If your plans are taking you from Canada to Florida, you have a fourth option to transport a vehicle. You'll need to use one of the first three choices to take advantage of this one, but it's an interesting alternative for getting the last 900 miles of your trip when you need to ship a car from Canada to USA.
Amtrak's Auto Train runs daily each direction between the Washington, D.C., area and Sanford, FL, outside of Orlando. The train works similarly to a car ferry, with your vehicle being driven on to the train while you ride along in a separate car.
Riding the rails cuts two days of driving off your trip, saving on gas and wear. The train travels overnight for about 17 hours, and there are sleeping options including bedrooms, roomettes, and family accommodations. This means along with saving on gas, you're also saving on the cost of a hotel and even meals on the trip.
GET YOUR PAPERS IN ORDER
No matter which method you choose, you will need to make sure you have your documentation to ensure there are no issues at the border. Some of these will be required only if someone other than you is transporting the vehicle. Others you will need no matter which route you take.
A letter of authorization from you granting permission to take your vehicle across the border

Copy of vehicle registration and insurance

Photocopy of your passport

If you pack personal belongings into the car:

Going to the U.S – Form 3299 for U.S. customs and a Form E-15 for Canada border services

Returning to Canada – a copy of a Form E-24 for Canada border services and a copy of the Form E-15 you presented when you left the country

You will also want to consider other documentation you'll need while you're in the United States to legally operate your vehicle. This includes making sure your driver's license will be valid the entire time you're there and checking to see if you can get a handicap parking permit once you get there if needed.
Insurance is another consideration. Your carrier might limit the amount of time you can have your car outside Canada or require supplemental insurance for long-term stays.
Check your liability coverage as well and consider increasing it. Any damage done in the U.S. will be in U.S. dollars, but your insurance company will pay out in Canadian dollars.
SHIP A CAR FROM CANADA TO US
As you make your plans to head south for the winter, follow the lead of other Canadian snowbirds planning to take their vehicle along with them. Your options give you some flexibility on how you spend your time and money to accomplish the task.
If you search for œmovers near me to look for an auto transport company, you will find many options to choose from. We serve individuals, collectors, and dealerships of all sizes and aim to provide a five-star experience to all our customers. Contact us for free auto shipping quotes to get your car south for the winter.